TORREY PINES RESEARCH

5973 Avenida Encinas, Suite 140
Carlsbad CA 92008

Tel: 760-929-4800
Fax: 760-931-1671

71 Periton Parkway
Fairport, NY 14450

Tel: 585-288-7220
Fax: 585-278-1155

Last Updated
06/12/2017

copyright 2007
Torrey Pines Research
Torrey Pines Research (TPR)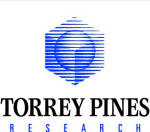 Is the leading independent product development, product engineering, and technology consulting company serving the digital printing, electronic imaging, & reprographics industry since 1986.

TPR is uniquely positioned and qualified to extend this expertise to other industries and applications requiring the product development of liquid and/or dry powder deposition technologies.

Torrey Pines Research has over 21 years of proven experience in new product design, equipment design, product development, multi-disciplined printer systems integration, printer testing, and problem solving. Through its TurnKey Plus division, manufacturing services of complex electro-mechanical systems is offered with world-class pricing, delivery, & quality.

Technical Expertise
Unlike typical product development consulting firms, TPR employs a proprietary process to provide clients with timely product designs and digital printer systems.
Typically, clients work with TPR to solve one of three problems:
Worried about getting their products to market quickly.
Frustrated they don't have enough technical expertise in-house to develop and integrate complex multi-disciplined products and systems

Concerned about the long-term expense burden of hiring permanent in-house resources
We invite you to review our website's knowledge base of articles, publications, white papers, and presentations. We hope this information will help you with your product development and digital imaging product development and process challenges.



We're Listed On The Rochester Business List

TPR announces the availability of iP_ANALYSIS


TPR's Image Permanence Data Management System Software Package



TPR announces that that the latest version of the TEC Tribo Charge Analyzer TEC-2 is now shipping.

Rick Lux, Ph.D., with 29 years experience in research and development of digital printing systems, has joined TPR as a TPR Fellow.

Dexter Dyer,with over 31 years in

electrophotographic and lithographic digital printing , has joined TPR as a TPR Fellow.

Jerome May, a 33 year digital imaging veteran, has joined TPR as a TPR Fellow.


TPR has been selected for the "2008 Product Development & Marketing" category award by the U.S. Local Business Association (USLBA).(New Press Release)


TPR Ozone Testing Facilities Description (PDF)

TPR has conducted an extensive test on the stability of photographic prints made from a variety of systems from multiple vendors. The report compares the performance of the various images under accelerated conditions to assess their respective permanence and to make life projections. this is available for download at Publications.


...(Press Releases)