Printer Testing






Torrey Pines Research (TPR) provides a wide variety of testing services for the digital printing (non-impact printing), electronic imaging, and image capture industries. TPR's standard and custom-designed test plans are built upon over 17 years of assisting major printer manufactures and printer OEM's in the testing of a wide variety of hardware, software, consumables and supplies. Torrey Pines Research has also successfully developed custom certification programs to validate design standards established by a manufacturer or the industry.

Click Here For a New Testing & Service Tri-fold Brochure (PDF)
Click Here For a Description of Our Ozone Testing Facilities (PDF)
TPR Specializes in:
COMPETITIVE ANALYSIS. A process which supports your digital printer marketing programs or assists engineering in the printer performance and printer benchmarking process.
TPR's unsurpassed ability to evaluate printing system hardware, printing system software, and printing system supplies provides clients with a timely and unbiased analysis of their product and the competition. This analysis helps to identify key strengths for marketing emphasis and provides independent technical credibility for your marketing claims.
In addition, TPR's analysis provides valuable data and insights for determining product requirements as an input for planning and engineering efforts. TPR's independent analysis presents an industry perspective that can be used to differentiate your product from the competition.
DESIGN VERIFICATION TESTING (DVT). Does your digital printer product or digital printer prototype meet the intended design specifications?
TPR provides evaluation programs for digital printer software and digital printer hardware products or digital printer prototypes to ensure compliance with the original design specifications. Areas of noncompliance are documented and can be analyzed by TPR's team of experts for root cause. Recommendations for design improvements are often provided.
PROBLEM ANALYSIS. With a staff of engineers and technology authorities specializing in every discipline related to the electronic printing systems industry, TPR is able to develop custom testing programs to provide timely feedback in specific areas important to our clients. This approach allows our clients to outsource special technical or problem-solving tasks without impacting in-house resources.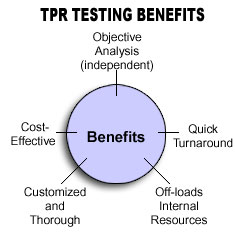 Test and Certification
Torrey Pines Research (TPR) test and certification programs are designed to evaluate a variety of printing systems. A typical program may involve a head-to-head comparison of competing hardware or may compare the performance of various software and / or supplies on a common hardware platform. The following list includes some of the most common testing programs offered by TPR:
Test & Certification Programs:
Image Quality
Print Speed
Print Yield and Cost per Copy
Printer Ease of Use
Printer Environmental Sensitivity
Printer Reliability
Printer Service / Maintenance Intervals
Printer Unit Manufacturing Cost (UMC) Analysis
Printer Compatibility
Standards & Certification
Test and certification programs are offered to cover the range of variables existing throughout the entire printing systems workflow.
The objective of Test and Certification Programs at TPR is to embrace the entire printing process from front-end to back-end with accurate testing and evaluation. The following list demonstrates the range of test and certification areas offered at TPR:
Test and Certification Areas:
Image Capture - Scanners, Digital Cameras
Color Management - device-dependent, embedded, various platformsInformation
Management - data types, conversions
Applications Software - various platforms and workflows
Display Systems - color calibration
Output Device Drivers - various platforms and connections
Raster Image Processors (RIP) - standalone, embedded, various platforms
Output Devices - printers, color copier/printers, multifunction peripherals (MFP)Consumables - ink, toner, etc.
Substrates - paper, film
Printed Output - electrophotographic, dye sublimation, inkjet, thermal wax and others
Image Permanence - accelerated aging, uv exposure, ozone exposure, water fastness (Back to top)