TORREY PINES RESEARCH

5973 Avenida Encinas, Suite 140
Carlsbad CA 92008

Tel: 760-929-4800
Fax: 760-931-1671

71 Periton Parkway
Fairport, NY 14450

Tel: 585-288-7220
Fax: 585-278-1155

Last Updated
06/12/2017

copyright 2007
Torrey Pines Research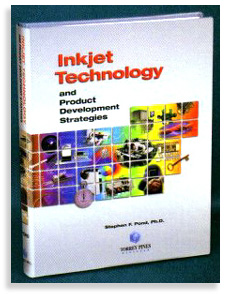 Inkjet Technology and Product Development Strategies

"Steve Pond is not only one of the world's most well known and articulate inkjet technologists, his unique experiences and skills make him one of the most sought after leaders in the inkjet world."

Jim Stoffel, PH.D.
CTO and Director of R&D
Eastman Kodak Co.

Inkjet Technology and Product Development Strategies is a 406- page objective discussion intended to serve as a educational and technology reference resource for many years to come.
Who Should Read This Book
Program managers, technologists and business planners whose companies are in, or are transitioning to, inkjet technology


Manufacturing process experts needing to provide unique micro-dispensing and coating solutions using inkjet technology


New employees wanting to speed their technical growth
About the Author
Stephen F. Pond, Ph.D. is a Torrey Pines Research Fellow specializing in inkjet technology. He joined TPR in 1998 after 26 years in research and development at Xerox. Pond is a graduate of Dartmouth College and the Univ. of Illinois, with a Ph.D. in physics.
Pond initiated Xerox's thermal inkjet printing research in 1982, and managed a semiconductor process laboratory for print-head fabrication. Pond was the chief engineer for Xerox's first thermal inkjet products and established their first thermal inkjet print-head manufacturing plant. He is a Registered Agent with the U.S. Patent and Trademark Office and holds twenty-one electronic marking patents.



We're Listed On The Rochester Business List

TPR announces the availability of iP_ANALYSIS


TPR's Image Permanence Data Management System Software Package



TPR announces that that the latest version of the TEC Tribo Charge Analyzer TEC-2 is now shipping.

Rick Lux, Ph.D., with 29 years experience in research and development of digital printing systems, has joined TPR as a TPR Fellow.

Dexter Dyer,with over 31 years in

electrophotographic and lithographic digital printing , has joined TPR as a TPR Fellow.

Jerome May, a 33 year digital imaging veteran, has joined TPR as a TPR Fellow.


TPR has been selected for the "2008 Product Development & Marketing" category award by the U.S. Local Business Association (USLBA).(New Press Release)


TPR Ozone Testing Facilities Description (PDF)

TPR has conducted an extensive test on the stability of photographic prints made from a variety of systems from multiple vendors. The report compares the performance of the various images under accelerated conditions to assess their respective permanence and to make life projections. this is available for download at Publications.


...(Press Releases)